Deep sea Fishing Punta Cana
Deep Sea FISHING PUNTA CANA, one of the most popular activities. This is not surprising, because Punta Cana is located on the coast of the Atlantic Ocean. The Atlantic Ocean is rich in fish species like Blue and White Marlin, Wahoo, Mahi, Kingfish, and others.
Over here for deep sea fishing, we mostly use the trolling method. The trolling method is a method of constantly moving boats. For this method certainly, special equipment is used, such as outriggers, downrigger big rods, and professional reels for saltwater.
As a result, trolling is a favorite kind of recreation not only for local people but also for all guests of the resort. Many anglers come here from all over the world to try their luck and reel out their Blue Marlin.
Your Dream FISHING is Here
Deep sea Fishing Punta Cana
Deep-sea fishing charters method trolling. During this type of fishing, we are using special gear and a powerful motorboat. We are dragging the bait in the upper water lever and by that action attracting the big type of fish.
Big Game Private Charters
Big game charter are for the avid experienced anglers wanting the chance to catch that trophy fish! These charters start at a minimum of 4 hours and can go for as long as 10 hours. Fishing 4 to 6  rods at a time depending on exact technique. Using artificial and live bait as well as different trolling lures. We can target yellow fin tuna, wahoo, mahi mahi, blue marlin, white marlin, sailfish, and swordfish. Departure time depends on what species we are targeting.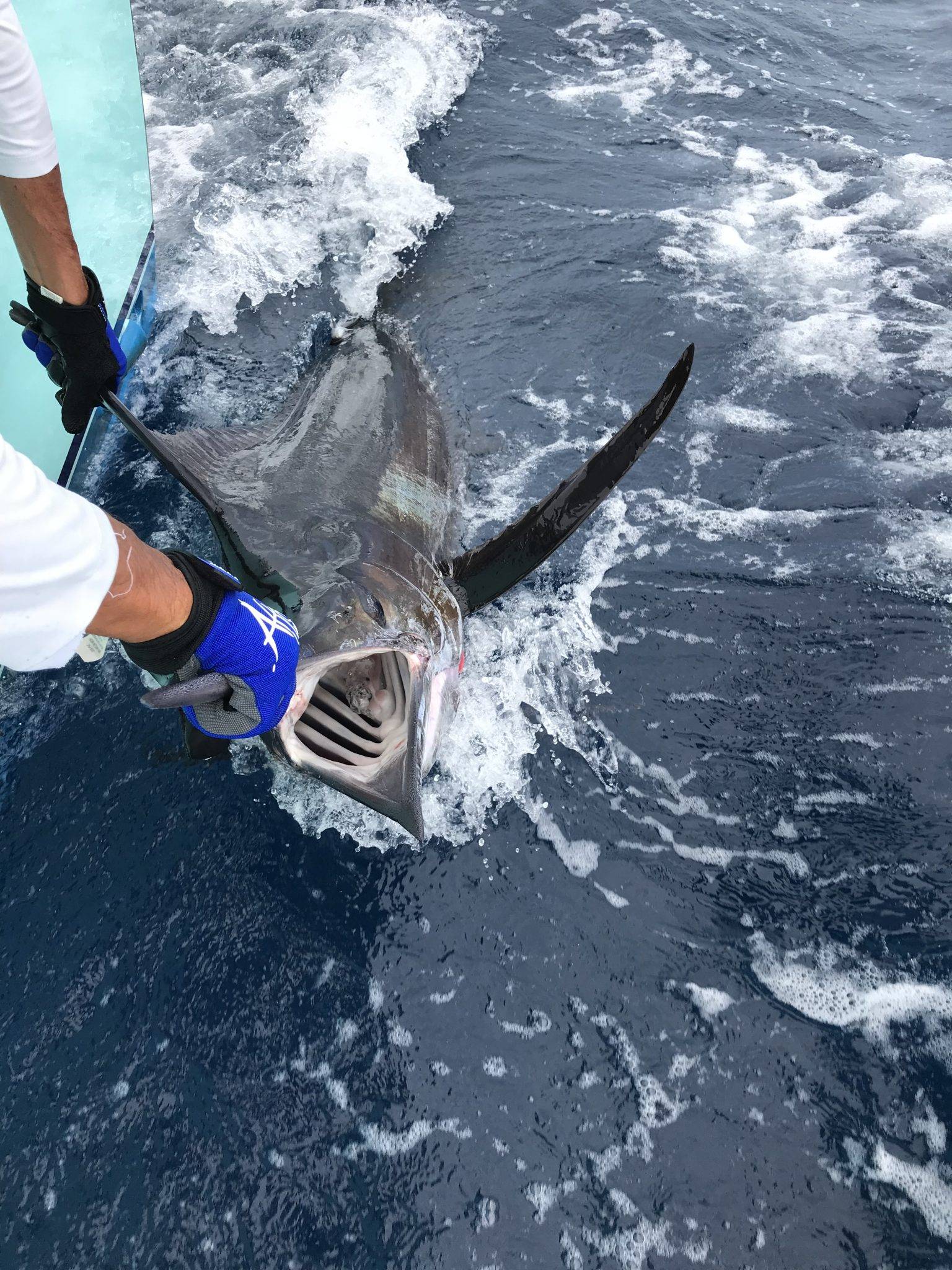 An unforgettable adventure that we suggest you make with Santa Elena Fishing Charters. What could be more interesting,  extreme and exciting than deep sea trolling, where everyone has a chance to reel in a trophy. The waters of the coast of Punta Cana are rich in such species of fish as Golden Dorado, Barracuda, Wahoo, Royal Mackerel, Yellowfin tuna, White and Blue Marlin and their brother Sailfish. After the trophy is on board, the captain will take you to a quiet lagoon with crystal clear water, where you can swim and relax while the first mate cleans and cooks your catch on the grill.
Charter for the Whole Family
"Deep-sea Fishing for the whole family" – our new service that we offer. An unforgettable adventure that we offer you to make with Santa Elena Fishing Charters. Nothing could be better than to experience the perfect getaway with the entire family on the Atlantic Ocean. Contact us so we can select the best weather conditions, where you and your entire family will spend a day of fishing. We also offer childcare while you catch your dream fish.
Deep sea Fishing Punta Cana
Deep Sea FISHING  is exciting and surprising. Each day it's new like a new story or a new chance to get a trophy. It's really hard to describe in words the fullness of emotions that you get when you are fighting with a huge fish and by the end reeling it out of the water. The excitement and pleasure of a fight with a worthy opponent (fish) always leave an indelible and amazing impression of victory. So if you have never tried it and you want to try, don't hesitate and book your first deep sea fishing charter with us. We will teach you how to reel out your first trophy properly.
What a great experience. I've been deep sea fishing for many years. This was not the most productive, but definitely the best one I've been on. We had rough seas and rare Punta Cana bad weather, but Elena and her crew fought hard and managed to give our wives their first ever deep sea catch. I can't imagine using anyone else. Most captains would have given up. THAN YOU!!
If you want to try deep-sea fishing in Punta Cana, but the price for the private charter is too hight, you can visit our shared charters. The route of our deep sea fishing shared charters: Group is gong for 2.5 hours for deep-sea fishing in the ocean and after for 1.5 hours captain will take you to the quiet lagoon where you will have an opportunity to swim and snorkeling while the captain prepares the catch for you on the grill. After that, you will be back on the coast. Total time on the boat for 4 hours. The price will depend on how many people in the group.
4 people-120$
6 people- 100$
Your Dream Deep-Sea FISHING PUNTA CANA trip is Here
WHAT IS INCLUDED IN OUR TRIPS?
On board in each 4-hour trip you will have drinks, such as water, beer, sprite, cola, run, which are included in the price. Also, in the 6/8 hour or longer trips lunch (sandwiches, fruits, and vegetables) is included.
Transportation also is included from the zone Punta-Cana and Bavaro
DEEP SEA TROLLING QUESTIONS