PUNTA CANA
SANTA ELENA FISHING CHARTERS

Looking for the perfect getaway?
You are in the right place!
All types of high-quality boat trips.
Deep-sea fishing trips for all levels of anglers.
Relax trips for companies of friends and families with small kids.
Snorkeling and BBQ on the boat - all you ever dream about are possible with us!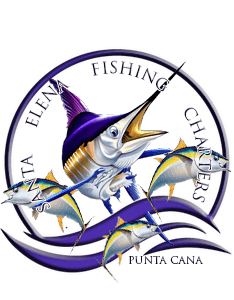 Punta Cana Fishing cHARTERS.
Dear visitors welcome to PUNTA CANA FISHING! Santa Elena Fishing Charters team are glad to see you on our website! Professional anglers, those who just like to try themselves in fishing and who just want to chill on the boat, we glad to see you all. We would like to offer your attention to several deep-sea fishing trips as well as a party boat and snorkeling tours. Our company has been operating in the Dominican Republic, area Punta Cana        since 2016.                                                            
Punta Cana Fishing Charters- Fishing in Paradise
As many professional anglers, as well as beginner fisherman, may know the Dominican Republic is just perfect place for deep sea fishing. In crystal clear blue waters of Atlantic Ocean such species as Blue and White Marlin, Wahoo, Sailfish, Mahi-Mahi and many, many more, just waiting for you. The Dominican Republic is absolutely having to be a Fishing Paradise for all anglers.
PUNTA CANA FISHING ADVENTURE STORY
PUNTA CANA FISHING CHARTERS is much more than just a fishing charter, it is a whole adventure story, an unforgettable experience that you will remember for many years. After taking a fishing trip with Santa Elena Charters you will have not only a catch, which you dreamed about but also vivid memories with cool bright photos. We love to take memorable pictures of our clients with their trophy's. You can look up our photo library over here.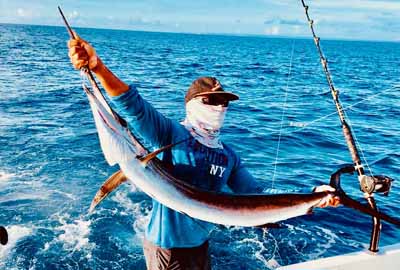 SANTA ELENA Charters Punta Cana- Boats that we use

SANTA ELENA Boat -41' long

For fishing trips as well as for the party boat trips we use our boat, Santa Elena. It is a 41-foot long. The boat made by Mainship company in the USA. We keep our boat clean and well maintained. With perfect equipment for deep-sea fishing trips such as professional fishing rods, reels, and tackle. The maximum capacity for the fishing trip will be 7 people. For party boat trips we take up to 10 people.
As a result, the boat is in excellent condition and has all the nice amenities for your perfect getaway.
Anastasia Pontoon Boat is the perfect solution for a wonderful comfortable light rest on the water. The pontoon boat is equipped with a grill and a slide for diving into the water. The capacity of the pontoon boats up to 8 people. It is a perfect solution for celebrating events and parties, as well as it is perfectly fit for the Carribean getaway for families with young children.

In addition to fishing, you can choose boat trip Punta Cana-it is a route of full Relax. These boat trip Punta Cana is ideally suited for small companies (up to 10 people) as well as for families. We tried to include in our route the maximum amount of entertainment. We have prepared for you flippers and masks for snorkeling as well as beautiful inflatable mattresses for swimming and sunbathing. Moreover, we have provided the preparation for a hot lunch on the grill. We also give you a free bonus – beautiful photos that we will make for you. To find out more information about the boat trip Punta Cana of full Relax, follow the link.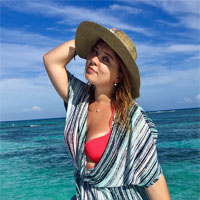 Our main goal is to provide the best services, at the most affordable price for each of our clients. Due to that, we always have hot offers and seasonal sales. Fishing in Punta Cana with Santa Elena Charters will defiantly turn to be a spectacular fishing adventure that will bring you not only a good catch but also a great memory for years to come.

PUNTA CANA Fishing charters- Our Team

The captain and the first mate take their work very seriously. Their main goal is to make all of Punta Cana Fishing Charters successful. The captain is one of the local guys who grew up on his father's boat. He knows the local waters of the Atlantic Ocean very well. Also, he knows all the secret places of the greatest concentrations of fish. He can navigate through hunting birds and determine by the wind where it is better to fish. The captain will never rest until you pull out your trophy.
PUNTA CANA FISHING CHARTERS-

Skills

The first mate speaks several languages and every time he does his best so that our guests receive the best service and are satisfied with every fishing trip. If you are not a professional fisherman and this is your first or second experience of deep-sea fishing, the first mate will explain to you how to use fishing rods and how properly pull fish out of the water. He will tell you all about the fish that inhabit the waters of the Atlantic Ocean and about the correct technique of trolling deep-sea fishing. His main goal is to turn your fishing trip into an unforgettable adventure about which you will have bright and good memories.
A little bit more about Fishing
Dominican Republic fishing charters "dream marlin"
Fishing for Marlin is the "dream fishing" of every angler. Many professional fishermen fly to the Dominican Republic specifically to take part in deep sea fishing on Marlin. As everyone knows, the waters of the Atlantic are rich in these beautiful, dangerous, and fastest fish in the world. To pull a marlin out of the water is every time a battle between a fisherman and a fish.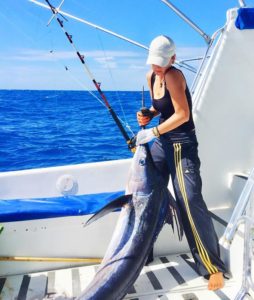 Dominican Republic family fishing charters
For family fishing, we choose the weather conditions and recommend the day when the ocean is the calmest. We also look after children while their parents are fishing. We collect feedback and value our reputation very much. You can read reviews about our work here or find us on Google Map, TripAdvisor, and other social groups. To find out more information about the fishing routes, follow the link
ADRENALINE AND UNFORGETTABLE MEMORIES PUNTA CANA
It is also a real adventure, adrenaline, and unforgettable emotions. When you will reel out Marlin out of the water, you'll remember your fishing in the Dominican Republic for a very long time and maybe come back to repeat this unforgettable experience.
BEST DAY OF RELAXING BOAT TRIP PUNTA CANA

We offer you attention to two types of perfect spent of the day. What vacay on Island can be without the trip on the boat? We offer your attention to two different routes which we are doing on different boats. One of the routs includes a special stop for snarling. Also, both routs contain many extra options by request.

A little bit more about PARTY BOAT TRIP
excursions from punta cana-snorkeling
One of the best Punta Cana Excursions is Punta Cana Snorkeling. We do it in a special rife zone where you can see all the beauty of the underwater life. Of course this type of excursion many providers do, due to that we would like to share with you several tips that can help you to choose just the perfect route for your perfect getaway.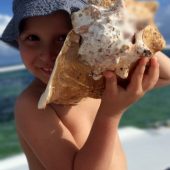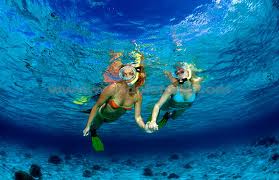 excursions from punta cana
Boat trip for kids and parents is a route that we created for families with small kids. We will take you in the beautiful quiet lagoon with crystal clear water. You will be able to swim and rest over there while we will be playing and taking care of your kids. We have special water matrasses which are just perfect for the kids to play and swim.

What you will find on our website


On our website you will also find articles, hacks and tips about fishing in Punta Cana. In all our posts we share experience, talk about our victories and defeats. If you go to our channel on YouTube, you will see our video reports. You can find photos of all our routes in two albums "Fishing" and "One Day in Paradise", we place more pictures in our social networks. Our job is to make your holiday unforgettable! Our main reward is our customers' happy smiles!
Why does everyone like punta cana excursions from Santa Elena Charters?
Because our main goal is satisfied and satisfied customers. To achieve our goal, we invented several Punta Cana excursions such as deep-sea fishing, family fishing, relaxing and snorkeling trips . And most importantly, we give our customers the opportunity to change foe example the fishing route already in the process. Moreover, we treat each of our clients as a good friend, inform in advance about the weather conditions and warn you what to expect and how to prepare for fishing.


YOUR DREAM VACATION ACTIVITIES ARE HERE
Good morning, good afternoon, good evening))) Never in my life participated in such an event, like fishing in big water. Ocean, sun, waves and a sea of impressions! Not me, but my husband caught a fish - Wahoo, Mahi Mahi, and Baracuda. Excellent organization and preparation of the team (perfectly coordinated work), comfortable conditions on the boat helped to have a great time))) In conclusion, fishing will bring you to a stunningly beautiful place where you can swim in crystal clear emerald clear water and taste the caught catch))
May 26, felt like real fishermen on the boat Santa Elena! By 7:30 am, we arrived at the port, where Elena met us, acquainted us with safety, instructed, and we set off to the open ocean! After a while we caught a huge sea fish Mahi Mahi! I never thought that these fish reach that size! After fishing we had a stop in the coastal zone. There we spent about one and a half hours. Bathed in the purest water without algae and waves. Here, on a specially equipped grill, they prepared for us our catch - you will lick your fingers! There were also drinks: beer, rum, juice, cola. After swimming, taken back to the port! Emotions from such an adventure - the ocean! PS: take pills for motion sickness - nobody canceled motion sickness!
This tour is a must-have on every Punta Cana trip! I've been twice - last year in March and just last week and it was an incredible experience both times! Elena and her team really care about the happiness of their customers and make every detail perfect. For example she takes beautiful photo sessions of every person (15+ minutes) and edits & sends them - all for free! These are my favorite photos of the whole vacation. Also the group sizes are super small - 5-6 people. We saw many boats of the same size with 12-25 people looking really uncomfortable and overcrowded. There are snorklers, drinks & snacks, fishing equipment and more all for the very cheap price of the tour, no "surprise chargers" as they happen with many other companies. Can't wait to come back for a 3rd time!
It is always a pleasure to receive gifts and bonuses. Santa Elena Fishing Charters – your Carribean friend are we are glad to give you a coupon for free extra time for your excursion.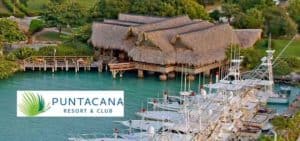 Fishing in the Dominican republic probably one of the most popular excursions in Punta Cana. Of course, here you can find different types of fishing and it can be done in a minimum three different ways. Firstly it can be trolling deep-sea fishing in Punta Cana. Secondly, it can be Dominican republic fly fishing and thirdly it can be bottom deep sea fishing. We will take a more close look at each one of that fishing. But I can assure you that fishing in the Dominican Republic is the most exciting and cool type of recreation. So is you ever will come down here or you already here and just thinking, try it. Fishing in Dominican republic worth it.
Of course, if you thinking about fishing in Punta Cana you will first find out what species you will be targeting. Atlantic ocean is a great spot for doing deep-sea fishing. Blue and White Marling, yellowfin tuna, Mahi-Mahi and Kingfish, Wahoo and Sailfish and others. The underwater world is reached here due to that fishing in Punta Cana is always exciting and unforgettable.
Private fishing charter Punta Cana is a rental of the fishing boat for one family or group of people who knows each other. A private fishing charter is an ideal decision to do deep-sea fishing in Punta Cana although it is more expensive than fishing in the shared group. But it is more comfortable, and when you are on vacay the comfortability is standing in the first place, don't you agree with me?