Mahi Mahi Fishing charters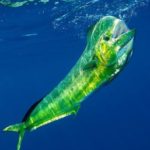 MAHI-MAHI FISHING Charters in PUNTA CANA! My blog story today is about how I fell in love with trolling deep sea fishing! .. And it happened on the second day, after my arrival on the island. We went fishing and the weather was calm and beautiful, at that day. It was my first trip to the Mona Strait, the beginning or the end of the Atlantic Ocean, I still don't know, but it for sure separates the Atlantic Ocean and the Caribbean Sea. Open ocen was so so beautifull, it was not possible not to fell in love with it. Plus the weather on that day was perfect as well as ocen conditions. (Factors that make 50% of the great trip!.. other 50% is the biting level at that day.)
I remember .. at that day I counted about 30 shades of the ocean! It was cool! 
But the "Lake" of Mahi-mahi that we found !!! It was even cooler !!! I never saw this again .. unfortunately ((
But let me start from the very beginning of my first Punta Cana Adventure .. moving away from the coast for about a mile we saw sargassum algae and there were a lot of them .. a lot. Now through the years of personal experience I can say that years with a good "seaweed" happens every 2-3 years. But THAT big, that was at this day a have never seen before.. All fishermen likes it (seaweed) because of the  increased biting of mahi-mahi in the summer and autumn months. And that the exact time when the seaweed appears. 
the best mahi mahi fishing charter ever
So.. back to the story.. firs it started as usual.. first flock.. one or two bites., then second then third.. AND.. believe it or not.. under the boat we saw several flocks of mahi just going around.. we putt the boat at the natural speed and just using trolling rods start to fish. We have got around 10
Of them and then they started to change the directions and were gone.. BUT it was amazing!!! It was so much fun!!! And as I discovered after really unnatural! And exactly that mahi-mahi fishing charters in Punta Cana for the first time.. made me choose my next chapter for my life.. chapter "Salty Fishing Life"! 🙂 And so far.. I
it!