FAMILY FISHING and relaxing time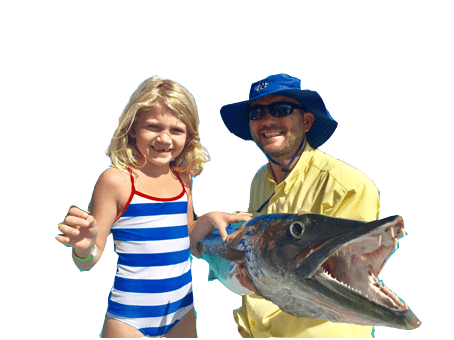 join the punta cana Fishing trip of a lifetime
Punta Cana fishing trips report will be about family fishing. I really love family fishing, because children's emotions when reeling fish out of the water are the most natural and real. It is always very nice to see and create them.
Punta Cana fishing trips report
Punta Cana Fishing Trips Story. It was a nice November morning in Punta Cana. I stood in the parking lot of the port of Punta Cana and looked at the ocean. The ocean was calm today, the wave was completely absent and there was no wind either.
I was waiting for a family with children to visit my boat and therefore I was not particularly worried because of the lack of good weather conditions for fishing in Punta Cana. After all, all professionals or even deep-sea fishing enthusiasts know that the best catch when trolling is when weather conditions meet the following criteria. A wave of 3 to 5 feet and a wind of 5 to 7 meters per second. But today, both of these factors were absent. So back to our fishing report.
Punta Cana fishing trips -Meeting with the guests 
 At 7:30 a transfer with my guests arrived at the parking lot and the tourists got out of the car. Today, my company went fishing 3 adults and three young children. I immediately made friends with Ketty (a sweet girl of six years old), together with her we told the other fishing participants the most important information and went to the boat.
Having left for the ocean, as usual we threw outriggers, fastened the bait to the carbines on fishing rods and sent it into the water. As I said, the ocean was calm, and under such weather conditions to catch at least barracuda is already happiness !!! Of course, this weather is ideal for a boat trip, but for those who want to take a real trophy you need a bigger wave. So back to our fishing.
Knowing all the consequences, I decided to experiment immediately and installed an ethical lure on the left fishing rod (which I was following), this lure attracts the attention of barracuda, wahoo and mackerel. I kept in myself the hope to take one of these fish. We had a lot of time, the ocean was like a mirror and I relaxed and looked into the distance towards the horizon.
punta cana fishing trips The fun is started
 Suddenly 2 fishing rods worked right away. I rushed to mine and mate Alexander to his. Sweeping and yes, something  was on the hook. On my fishing rod, fish is not a big one, and it looked like a barracuda.
We shouted to the fishermen and handed them fishing rods. Twenty minutes later, there were two barracudas on Santa Elena's boat, one very large and a second smaller. And then something happened that we did not expect. Two boys became ill from seasickness. I suggested that adults stop fishing and go to the lagoon, where children can swim and recover.
Adults agreed with me and we changed our course. An hour later we were in the lagoon. The captain took out air mattresses and children's masks for snorkeling and the real fun began! The boys immediately felt better! They dived and swam, took large sea shells from the bottom and rejoiced in them.
The assistant prepared cocktails for adults and the captain butchered a small fish and grilled it. After the meal was ready, we set up a table on the upper deck and invited our guests. Everyone with pleasure tasted the catch and well-fed and satisfied, we returned to the shore.