Deep Sea fishing Punta Cana report october 2019
Hello dear friends! Today, my post will be about the deep sea fishing Punta Cana fishing report. We went fishing in October 2019. On the eve of fishing, I received a letter from Jessica, she told me that she knows what deep-sea fishing is and she fished a lot but not on the ocean but on lakes and rivers and what she there has always been one problem. Her problem is motion sickness. I assured Jessica that she would not worry that the weather would be fine and I would definitely buy her pills for motion sickness just in case. On this we agreed. On the planned day, Jessica and her boyfriend came to my boat. 
report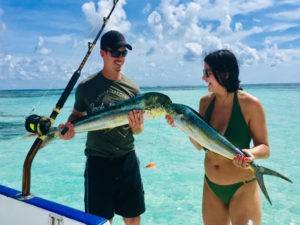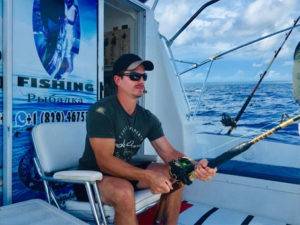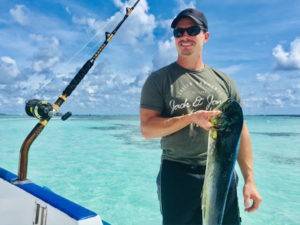 Fishing October report from Punta Cana. Today is on the 24 of October. Not too sunny but no rain and that is already good. The ocean conditions are very comfortable. Waives and wind just perfect for deep-sea fishing. So we will see what we will have today. My fishing company for today is a couple from Canada. The girl warns me that she may have problems with seasickness so I took the pills for her just in case and advise her to drink it before. And she did it. So we went for the fishing and everything was as usual. In first hour we took five Mahi-Mahi and here all the "funn" begun. The girl felt her self so seasick that I decide to turn back and to go to the lagoon. She wanted her boyfriend to fish more but I convince them both that fishing should be enjoyable like any other type of activity. And with seasickness, it is just impossible to enjoy the process.
Lagoon Time
 So we went to the lagoon on the way back we caught one more Wahoo. When we gat to the lagoon, I gave to the guys masks for snorkeling and advise them to take a swim to refresh them selfs. While they were swimming we prepared one of the Mahi for them and guess what when they were back to the boat they were hungry!))) So after they taste the fish we slowly went back to the coast. On the coast when we were going to the car, the girl told me: "Elena thank you that you took us to the lagoon if you would not do that I don't know how I would have handled until the end" All that I could replay:" you are very welcome :)) and I am glad that by the end you both did enjoy the trip!"
Jesse
⭐⭐⭐⭐⭐
I have been on MANY fishing charters over the years, and this was probably my favourite. My boyfriend and I managed to catch 6 fish in our first hour. As someone who is known to get sea sick, I knew it was a very real possibility. I love that when I did get sick Elena didn't just end the day... she took us to a beautiful blue lagoon and let us snorkel and cooked us up some fish on the side of the boat. Most charters would have dropped you back off at the dock and said too bad. I would recommend this charter to anyone visiting the Punta Cana area. From pick up to drop off everything was well organized and thought out. Thanks again for helping us make some great memories!