Punta Cana fishing seASONS-AUTUMN OCTOBER
Hi friends! And today I want to share with you a fishing report in October. In the Dominican Republic, this month is considered the fall month. The temperature of water and air gradually begins to drop, though only two-three degrees, but for the inhabitants of the sea depths these two-three degrees mean a lot. Today is my fishing report on rainy weather fishing.
Our first fishing in October! 1 of October and it was raining from 4 am without stopping. I was standing on the parking of Marina Punta Cana and thinking should I cancel the fishing because f the weather or should we try to go in the ocean. It was raining already for a second or third day in a row. I knew that if we go fishing we definitely will have a good catch due to the fact that fish bites better in the rainy weather but still to get all wet was not a really nice perspective. So while I was in my thought my clients arrived. The rain was still strong and I asked them to wait in the car until it will be lighter. So 30 minutes after the rain was almost finished b we went on the boat. In the next 30 minutes, we were already on the water pulling our lines into the water. And the fishing started. Another 30 minutes our captain tried to run away from the rain and to search for a fish.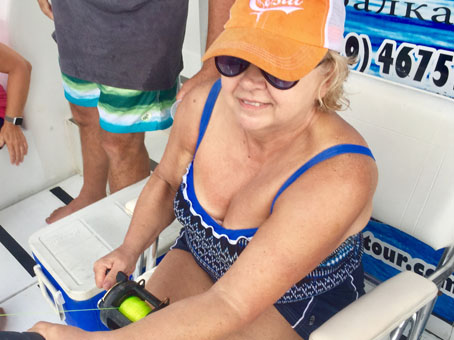 And then we heard the sound of the reel! Here comes the first one!!! So the first one was Mahi-Mahi (good size one) and our guest reeled it out of the water. In about 20-25 minutes another reel worked! That time I invited our fisher girl to reel out fish and that one was Wahoo, again the good size one. After the second bite was a little brack and then again two fishing rods worked at one time! Nice 2 more Mahi was on board! And here the rain again started. It was raining everywhere, we even could not see the island. Our guests went into the cabin and we were keeping fishing. After some time rain stopped for a little and another bite! And another Mahi! It was the 5th fish of a good size and our guests decided to go to the natural swimming pools to taste their catch.
Poor us, the rain started again and by the time when we got into the lagoon, it was quite strong. How to cook the catch for our clients on the BBQ when it was so rainy?! We did not know but we decided to try. And we succeed:)))) Our clients taste Mahi and Wahoo to compare the taste of the meat. And they like both 🙂 The rain stopped for some time so we had a chance to do the photos of our guests. So we had extremely wet fishing but still, it was nice adventure.