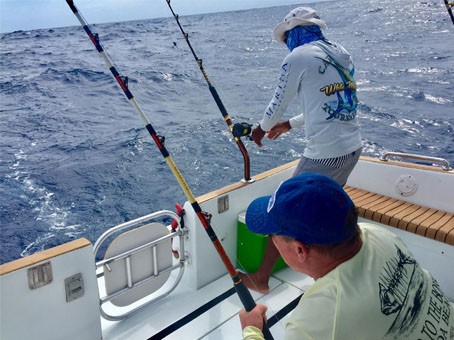 Private fishing Punta Cana
FISHING PUNTA CANA REPORT
Today is December. And the first day that we go to the ocean for a Private fishing Punta Cana after a week's break. All week in Punta Cana there were rains and big waves and finally, we returned to the water. Today I was waiting for two guests from Michigan. We wanted to do Private fishing Punta Cana two days ago but agreed to wait for more comfortable ocean conditions. And today, the wave was about 4 feet and the wind was normal. I stood in the parking lot of the port of Punta Cana and was waiting for the transfer. The car with tourists arrived 20 minutes earlier than the set time, but everything was ready for us to leave for the ocean. I met fishermen and we passed on a boat. We went out into the ocean, the early wave was quite aggressive.
PRIVATE FISHING PUNTA CANA BEGINS
After a short sail, we straightened outriggers and started fishing. I already said in one of my fishing reports that I don't really like big waves and not a calm ocean. My dislike arose because of two factors: the first one is that when fishing, the bait is often thrown out of the water and the second factor is that fishermen who are not used to the aggressive state of the ocean most often get seasick at the first hour. But today, our fishermen prepared for fishing, the guys took all the drugs for motion sickness. So the first hour of fishing: we retreated from the coast in search of sargas algae and flying birds. The waves were the same as near the shore and did not want to become smaller.
FIRST BITE OF TUNA
About 40 minutes we waited for the first bite. And the fishing rod worked and one of our fishermen went downstairs and sat in the fisherman's chair. He began to reel the fish out of the water, and when I pulled the line to the side, I saw that there was a Skipjack Tuna on the hook. This was our first tuna in December and in the winter season 2019/2020. Having unscrewed the fish, we put it in a special box for fish, straightened the fishing rods again and put the bait in the water.
SECOND BITE
Our next prey was barracuda, then another one. After that, there was a break. Our guests filled up on the upper deck to refresh themselves and drink some beer and rum. I looked at my watch and realized that about an hour was left before the end of our trip. We turned and headed towards the coast in the direction of a movement trying to go over all the points where we usually took fish. And at one of these points, the reel rang again and began to unwind. Another barracuda, I thought and made a mistake.
ANOTHER BITE
This time, Wahoo was on the hook. My guests went downstairs and one of them reeled a fish from the water. We put it in a fish box and threw a new bait into the water. I offered our guests not a lot of rum so that the fish would bite better 🙂 we all laughed together and the guests with drinks went to the upper deck. The shore was already close and we slowly began to collect fishing rods and get ready to enter the port. Having come ashore, we cleaned and packed the fish for our tourists. They wanted to take it with them so that their wives would try the meat of these fish. The desire of the client is the law for us. The result of our Private fishing Punta Cana: two happy and satisfied tourists who promised to return to visit us 🙂 I put our fishing today in the victory column! See you on the water 🙂
They picked us up at the hotel on time fish for a solid 4 hours caught fish wahoo tuna and barracuda. Also enjoying talking with Alena she is very knowledgeable person fun to hang out with and also have drinks . Can't wait to come back to punta Cana area and go fishing with them again